10 Strange But true things that only happen Uganda.
4468 Views
September 2, 2022
Uganda is a landlocked country located in East Africa. It is considered to be one of the most biodiverse countries in the world, and is home to a wide variety of flora and fauna.
It is because of this natural beauty that Winston Churchill "christened" Uganda the pearl of Africa in his book "My African Journey" published in 1908.
Winston Churchill had travelled to Uganda in 1907 and was awed by the beauty of this country. "For magnificence, for variety of form and color, for profusion of brilliant life — bird, insect, reptile, beast — for vast scale — Uganda is truly "the Pearl of Africa," Winston Churchill wrote.
However, despite its natural beauty, Uganda is a country that is often very difficult to understand. This is due in part to the many strange but true things that only happen here. Read on to learn about 10 of the most bizarre things that can only be found in Uganda!
ALSO READ – Find out why these 10 Ugandans would violently fight each other if they met!
Why is Uganda called the Pearl of Africa?
Uganda is often referred to as the "Pearl of Africa" because of its natural beauty. The country is home to a wide variety of landscapes, including lush green mountains, dense jungle, and vast plains.
Uganda is also home to a diverse range of wildlife, including lions, elephants, and gorillas. Winston Churchill was so inspired by what he saw during his tour of Uganda in 1907 that he wrote about it in his book " My African Journey" Published in 1908.
"For magnificence, for variety of form and color, for profusion of brilliant life — bird, insect, reptile, beast — for vast scale — Uganda is truly "the Pearl of Africa," Winston Churchill wrote. Uganda truly is a jewel in the African continent.
The above briefly explains why Uganda is called or is often referred to as the pearl of Africa,
RELATED – These 10 Ugandans would violently fight themselves if they Met!
The 10 Strange But true things that only happen Uganda.
Now that you have a brief background about this beautiful pearl, let us now look at the 10 strange but true things that only happen in Uganda, the one and only one pearl of Africa.
1. Only in Uganda does the President Demonstrate to the starving citizens how to consume a kilogram of posho for five days.
On May 18 2020, during the apex of the COVID 19 Pandemic, many country's had to lock down their economies to contain the pandemic.
Uganda was not an exception as the president announced a lockdown and this meant the citizens could no longer go out to work and fend for themselves.
The Government of Uganda Initiated a relief program that distributed posho and beans to enable the citizens survive through the lockdown.
One surprising thing though was that the president went a step ahead to ask his Kitchen staff to prepare 1 Kilogram of posho from the COVID 19 relief food that he weighed using a weighing scale to demonstrate to the citizens how to consume it without being wasteful.
WATCH President Museveni's Video Here!.
President Yoweri Museveni called upon people who had already received the COVID-19 relief food to consume it considerately, instead of being wasteful.
President Museveni who was chairing a cabinet meeting at State House Entebbe , made an exhibition using a posho ration mingled from 1kg of maize flour.
According to President Museveni, he wanted to demonstrate how Ugandans can make maximum use of the 6kgs of posho each, that the national COVID-19 response team is distributing to people as relief during lockdown.
"This is a kilogram of maize flour which I asked the kitchen staff to mingle. My rough estimate is that suppose I cut off a piece that is logically consumable, is it enough for me to survive both hunger and at same time obtain enough calories" President Museveni said.
Earlier the president had apparently in consultation with nutritionists been informed that 250g of posho are sufficient calorie intake for an individual in each meal.
"This single piece of posho we have sliced off weighs 250g, which could be consumed optimally in this period specifically," he added, after measuring the sliced ration.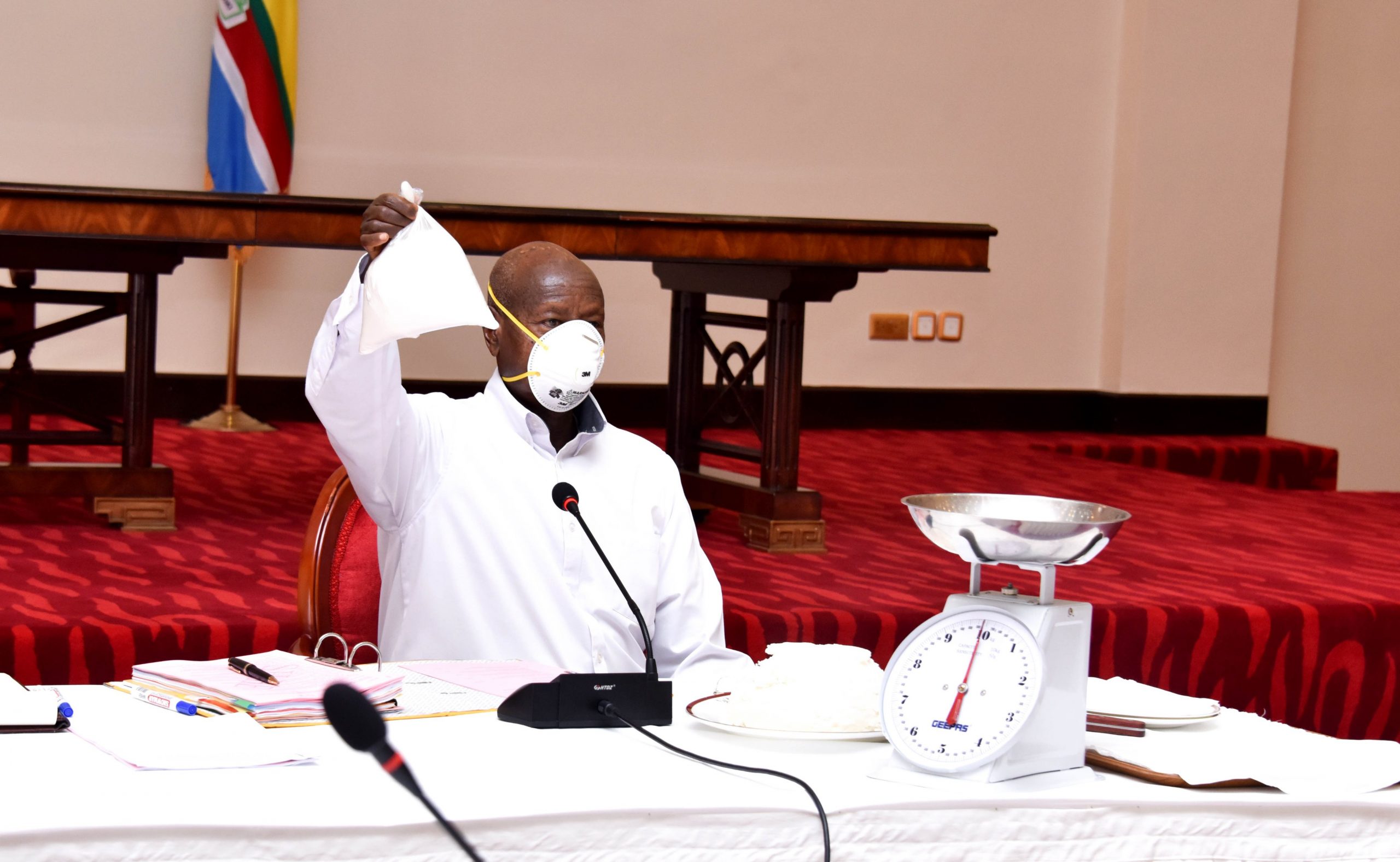 "The idea is that if you have 250g each meal, then it is possible you would approximately consume 1000grams in about 5 days or 2000 grams in about 10 days or less," he added.
Government through the office of the prime minister had in April 2020 started relief food distribution to about 1.5 million urban poor who are affected by the lockdown as a measure to contain the COVID-19 outbreak in the country.
The distribution that started from Bwaise suburb was flagged off by the then Prime Minister of Uganda Dr. Ruhakana Rugunda who has since been replaced in the "fishermen's" cabinet with Robinah Nabanja.
Pheew, Ever imagined the president of a country demonstrating how to eat posh? Truly strange but true!, isn't it?
2. Only in Uganda is where you don't apply for a job but you are appointed by the president ahead of those who applied.
Ever heard of a situation where a National airliner is recruiting a CEO, a reputable recruitment firm, PWC (Price Waterhouse Coopers) has been hired to do the recruitment only for someone who never applied for the job to be appointed to the position two days before the deadline for submission of applications?
Well, the latest spanner in the works in Uganda is the controversial appointment of Jennifer Bamuturaki as the CEO of Uganda Airlines.
Details obtained by info Axis indicate that on May 10 government had contracted PricewaterhouseCoopers (PwC) to offer consultancy services for procurement of recruitment for a position of a substantive chief executive officer of Uganda Airlines.
However, the job was two days before the application deadline handed to Ms Jenifer Bamuturaki, ahead of PwC's July 8 deadline for receiving applications.
PwC had on June 24, published an advert in which it invited interested persons within and beyond Uganda to apply for the Uganda Airlines chief executive officer job, indicating July 8 as the deadline.
PwC was allegedly paid USD, 25,000 (Approximately 98 Million UGX) to find a new CEO for the airline, and the government gave a list of qualifications for the role, and Bamuturaki doesn't meet the academic qualifications given by the government.
This discovery came after she presented her resume to the public accounts committee (COSASE) in the Parliament of Uganda . 
Bamuturaki holds a bachelor of arts degree in social works and social administration, while the company was looking for someone with a post graduate qualification.
So, what does Bamuturaki's resume look like?
From 1996 to 2000 she worked at the Sheraton Kampala as a guest relations and sales manager
From 2000 to 2003 she worked at East African Airlines
She then worked as a sales manager at a travel agency
From 2007 to 2014 she worked in the commercial division at Air Uganda
From 2014 to 2016 she worked as head of sales and marketing at the Sheraton Kampala
From 2017 until 2019 she worked as the director of sales and marketing at Golden Tulip Kampala
In 2019 she became commercial director at Uganda Airlines, before being appointed interim CEO, and then permanent CEO in 2022.
Asked whether she applied for the Job, Bamuturaki said "On the day i was going to apply, that is when i was appointed"
It later emerged that Ms. Bamutaraki was appointed on the instructions of Works Minister Katumba Wamala, who, quoting an April 24 letter from President Museveni, instructed the Uganda Airlines board to implement a directive to appoint Ms. Bamuturaki as the substantive chief executive officer.
Well the lack of a post graduate qualification much as it was a requirement would not be a big issue since Ms Bamutaraki has some experience in the aviation sector.
But isn't it strange but true that someone who did not apply for a job is appointed at the expense of other applicants who followed due process? It truly not only strange but surely true and it only happens in Uganda, the the pearl of Africa.
3. Only in Uganda is where you may not know anything about coffee business but you can be handed exclusive rights to buy all the coffee in the country.
Surely the strange but true things never cease to happen in Uganda. In a blink of an eye, it emerged that a little known company the Uganda Vinci coffee company limited (UVCC) had been given near exclusive rights to singly buy all the coffee produced in the country.
The deal that signed between the Finance Ministry and UVCC in February prohibits other investors from buying the country's harvest until the company gets the quota they want.
Even more strange but true is the fact that the "owner", an Italian investor Ms. Enrica Pinetti signed the multibillion contract as a witness not the owner.
According to the February 2022 Memorandum of Understanding (MoU), the agreement was signed by Finance Minister Matia Kasaija on behalf of government, in the presence of Ramathan Ggoobi, the Permanent Secretary of the Finance Ministry and Pinetti signed as a witness while the space for the company owner was left blank.
The MOU further revealed that UVCC is a limited liability company that is fully registered with its office located at Plot 2, Summit View , Kololo in Kampala and the coffee processing facility is expected to have a capacity of 60,000-tonne per annum.
While the government is undertaking the role to inject in money, in the deal ending in 2032, the company will have exclusive rights to buy all of Uganda's coffee and be will be exempted from paying taxes including income tax, pay as you earn, Excise Duty, Stamp Duty, VAT, Import Duty, and corporate income tax.
"GoU undertakes that it will take all reasonable measures to give priority of supply of coffee to the Company before registering any contract or acknowledging any arrangement for the export of Coffee beans…" the MOU reads in part.
"For avoidance of any doubt, the company shall be exempt from corporate income tax for a period of ten (10) years; b enjoy duty-free importation of all Plant and machinery, motor vehicles, construction materials and equipment, packaging materials and any other materials for use of this project under the Easy African Community Common External Tariff (EAC-CET)". Article 4.1.3 of the MOU reveals.
"If there is any change in law or change in tax which substantially alters the economic benefits accruing, the company may within one year from commencement of the deed (February 10) write to government in order to maintain the economic benefits of UVCC." the MOU adds.
The agreement also reveals that UVCC will receive an electricity subsidy so that the price they pay for electricity at the plant does not exceed $ 5 cents per unit.
In the same MOU, the government will also ensure a steady adequate water supply via pipeline to the plant at the company's cost to enable its operations and also construct an access road linking the plant to the main Jinja Road.
This decision raised an uproar among the stake holders in the coffee sector who argued that such an important agreement that binds all stake holders shouldn't have been signed without their involvement.
Buganda kingdom Prime Minister Peter Mayiga and a section of Ugandans, including processors and other stake holders have dismissed the agreement, saying the government sidelined them and signed the agreement without out their consent
"Then came Vinci Coffee Company to buy and sell Ugandan coffee almost as a monopoly. Those who signed the agreement never consulted anyone but claim it is good. We all understand English and know how to interpret agreements, be it laws.
Farmers were never consulted; neither dealers nor exporters were consulted. Buganda has a big stake in the coffee industry but why were we not consulted? How can the Ministry of Finance officials claim to know more about coffee than those of us who are on the ground," Mayiga questioned?
Following the uproar from the stake holders in the coffee sector, President Museveni boldly came up to defend the decision to award the contract saying he was the one who interested Pinneti who knew nothing about coffee to look into the coffee sector. He further went on to assure all those who were fighting Pinneti to go and fight him instead.
"When I first met her, she had no idea about coffee. It is not her. However, I could see that she had a wide network of contacts and I asked her to look into coffee," Mr Museveni said.
He added: "After some time, she came back with a positive report- that it was doable. I'm the one who told her… For her, she was in hospitals."
Isn't it really strange but true that someone who knows nothing about the coffee sector can be awarded such an exclusive contract…, this only happens in Uganda, the Pearl of Africa.
4. Only in Uganda is a 1.4 trillion shillings loan approved by parliament for the construction of a specialized hospital and three years later there is almost nothing to show only for the incompetent contractor to be given another juicy opportunity.
Its an open secret that Finasi, a company led by Italian "investor" Enrica Pinneti was given the contract for the construction of the 264 bed Lubowa specialized hospital. This hospital was meant to put an end to medical tourism which has seen many senior government officials referred for treatment outside the country.
In 2019, Parliament guaranteed a 1.4 Trillion Shillings loan to Finasi/ROKO to enable the project commence.
However, soon after the loan approval, reports emerged that the joint venture between Finasi and Roko had collapsed amidst reports that up to 240 billion Shillings had gone missing before construction started.
While the Ministry of Health handed over the site on June 10, 2019, it was hoped that the construction would be completed in a two years period with a completion deadline of June 2021. However, the project remains at the foundation level to date.
In the financial year 2021/2022, the accountant general revealed that the developer had earlier been given Shs 348.212 billion bringing the total to Shs 667.765 billion.
Pinetti at the time promised to construct the hospital in two years. The project being a BOT (build, own and transfer) Pinneti was to manage the hospital for six years before transferring it to the government. But three years down the road, there is no progress.
Eng George Otim, The acting commissioner in charge of infrastructure at ministry of Health and who doubles as project manager for the Lubowa project at the ministry of Finance revealed while appearing before parliament's health committee to defend the 2022/2023 ministerial policy statement that The developer of Lubowa International Specialized Hospital, Enrica Pinetti is not on-site despite government injecting over Shs 667 billion into the project.
"As I speak, the developer doesn't have a contractor on ground, they are in the process of procuring another contractor.
Initially, they were supposed to work with Roko, but that did not work and they engaged another contractor called Power China, that was disengaged and they left, and so the developer right now is looking for a developer to implement the work," said Otim. 
Despite the fact that parliament guaranteed the loan, law makers led by health committee chairman Charles Ayume who attempted to access the site for an oversite visit were denied access.
Common sense dictates that the persons who mismanaged this site needed to be brought to book but they are instead awarded with more opportunities. Strange but true, isn't it?
5. Only in Uganda does one sale goats to raise 10.2 Billion shillings to buy 23 acres of land belonging to a National broadcaster.
In the month of August 2016, then Burahya county Member of Parliament Margaret Muhanga Mugisa stunned Ugandans with the claim that she sold her "goats, cows and everything" to raise the Shs 10.2 billion that she paid in cash to buy land belonging to the Uganda Broadcasting Corporation (UBC).
Muhanga was appearing before Parliament's Committee on Statutory Authorities and State Enterprises (COSASE), then chaired by Bugweri MP Abdu Katuntu.
Ugandans were left wondering Just how many goats and cows the then Burahya County MP Margaret Muhanga sold to raise Shs10.2 billion she used to purchase 23 acres of Uganda Broadcasting Corporation (UBC) land and how much her relatives contributed?
On October 29, 2015, the Supreme Court had resolved the controversial sale, with all five justices upholding earlier orders by the High Court and the Court of Appeal for cancellation of the sale agreement for the UBC land on plots 8-10, 12-16 and 18-20 on Faraday Road in Kampala, measuring about 23.1 acres.
This implied that the High Court, the Court of Appeal and the Supreme Court all ordered that UBC be reinstated on the certificate of title and called the transaction a scam.
Isn't it strange but true that someone can just sell her goats and cows to raise 10.2 billion shillings to buy 23 acres of land in cash? This only happens in Uganda, the pearl of Africa.
6. Only in Uganda does the central bank (Bank of Uganda) procure 350 rolling ball pens  for Ushs 125 million (USD 33 thousand).
In August 2017, the Ugandan public was thrown into a furor over an alleged procurement deal that saw the Central bank Procure 350 Pens for a whooping 125 million shillings. This implied that each pen then cost shs 357,000 (approximately 100USD) something that the public deemed to be way above the ceiling.
This was revealed when Parliament's committee on Commissions, Statutory Authorities and State Enterprises (Cosase) started investigations into the irregular procurement process of 350 branded pens by Bank of Uganda at Shs 125 million.
Bank of Uganda (BOU) officials later presented a sample of the said pens to parliament. The cross brand pen costs are not very far from the stated prices.
Ms. Claire Lwasa, a senior procurement officer at BOU, submitted the market price for the specified pens from two online stores, Amazon Business and SOUQ store, quoting the cost price, shipping costs and logo engraving.
One branded rolling pen on Amazon Business was quoted at Shs 285, 777 while those at SOUQ store cost Shs 311, 455.
Despite the above submission, the procurement process was the major bone of contention. The pens were delivered to bank of Uganda way before the procurement process kicked off.
According to documents seen by info axis , the director of communication at BOU, Christine Alupo, in a letter dated July 26, 2016, made a request for procurement of BOU @50 branded rolling ball pens for distinguished guests.
Alupo wrote that Aristoc Booklex Ltd had been identified locally to supply the 350 branded pens at Shs 125 million. A quick check with the said supplier indicated that they actually didn't stock such pens (Cross Brand) as they would not make business sense in the local market.
The pens, whose eventual cost was summed at Shs 357, 142 each, were curiously delivered on August 2, 2016, way before the procurement process kicked off.
Don't you find this strange but true? Most definitely yes and it only happens in Uganda , the pearl of Africa.
7. Only in Uganda does the Uganda railways corporation (URC) buy locomotives worth 48 billion shillings that are not compatible with Uganda's rail but nothing is done.
In 2021, Uganda Railways Corporation purchased four locomotives that are incompatible with the rails running in the country.  
URC acquired the four refurbished locomotives from South African manufacturer, Grindrond Rail in August this 2021, as part of its efforts to revamp the century-old metre gauge railway. The locomotives bought at Shs 48 billion have the capacity to haul between 750 to 1,500 tons.
The newly acquired locomotives could not hit the rail , and the parliamentary committee on Commissions, State Authorities and Statutory Enterprises (Cosase) learnt that the problem stemmed from a lack of compatibility.

James Oketch, a railways engineer and president of the Uganda Railways Workers Union says that when the locomotives were being brought to Uganda, they were hauled dead, a term used to describe moving the locomotive without providing any motive power.
He says that the railway line in Uganda is designed for 80 pounds, yet the new locomotives are designed to run on a 90 pounds line.

He said then that the corporation was stuck with the locomotives because they were purchased without due diligence. Oketch was then interfacing with the Cosase committee chaired by Nakawa West MP Joel Ssenyonyi.
Isn't it strange but true that a government body like Uganda Railways corporation can buy locomotives that are not compatible with Uganda's rail system and no heads roll? Only happens in Uganda.
8. Only in Uganda does the country cruise into middle income status by force despite a divergent position from the world bank.
Uganda this year entered middle income status by " Force". Uganda Bureau of Statistics (Ubos) in July this year insisted that Uganda has attained middle income status despite divergent views from the World bank.
Dr Chris N. Mukiza, the Ubos executive director, said government data for the 2021/22 financial year indicates that gross domestic product per capita is estimated at $1,046, which is within the middle income threshold. 
On July 1, he said, the World Bank had released its economic update indicating that Uganda's gross national income per capita for the 2020/21 financial year was $840, which meant that the country had not crossed into the threshold for middle income status. 
According to Dr Mukiza, this caused panic among the public. "The reference periods in the two reports is different.
Whereas the report by government was based on the financial year 2021/22, the one by World Bank was based on the financial year 2020/21.
Thus, the per capita income in the two reports refer to two different periods, the government of Uganda report being the most up to date."
Dr. Mukiza's position was further re-enforced by president Museveni who also insisted that Uganda had entered middle income status despite the fact that the world bank had a different idea.
9. Only in Uganda does government block social media giant Facebook only for government officials still use at as a communication channel.
The Uganda government has to date blocked Facebook after the social media giant deleted hundreds of accounts of National Resistance Movement supporters it suspected to be fake during the General Election last year.
The social media giant told AFP that Ugandan government officials were seeking to manipulate public debate ahead of elections.
Facebook then shut a slew of accounts belonging to Ugandan government officials accused of seeking to manipulate public debate ahead of elections.
Uganda was then holding presidential and parliamentary elections after a tense and bloody campaign, with President Yoweri Museveni, 76, facing a stiff challenge from the popstar-turned-politician Bobi Wine who was 38 by then.
"This month, we removed a network of accounts and pages in Uganda that engaged in CIB (Coordinated Inauthentic Behaviour) to target public debate ahead of the election," Facebook's head of communication for sub-Saharan Africa, Kezia Anim-Addo.
"They used fake and duplicate accounts to manage pages, comment on other people's content, impersonate users, re-share posts in groups to make them appear more popular than they were."
Anim-Addo said the network was linked to the ministry of information and communications technology.
Following the blocking of Facebook by by the Uganda government, most Ugandans including government officials and supporters have since switched to the use of Virtual Private Networks (VPNs) to access the platform.
Isn't it strange but true that a government can switch off a social media platform and yet its officials still use it as a communication platform? Most definitely and it only happens in Uganda, the pearl of Africa.
10. Only in Uganda are lab rats procured for 8 million shillings (2,100 USD) each.
In November 2021, The Minister of Science, Technology and Innovation, Dr. Monica Musenero told Parliament that she procured mice that were going to aid the process of developing a Covid-19 vaccine in Uganda at a cost of 8 million Uganda shillings Each.
The minister said that they intended to procure 200 rats but the cost was prohibitive and so they decided to procure only four rats.
Dr Musenero was appearing before a parliamentary Select committee that was investigating the management of 31 billion Shillings initially appropriated for the COVID 19 vaccine development process.
According to the Stanford university School of Medicine, each lab rat costs between 47 and 128 USD as opposed to doctor Musenero's declared figure which is approximately 2,100USD.
Don't you find this to be strange but true? Definately yes and it only happens in Uganda.
The bottom line!.
If you thought Uganda was just a landlocked country in East Africa, think again! The Pearl of Africa is home to some of the strangest phenomena you'll ever hear about.
From the presidents posho lessons, to entering middle income status by force, there are plenty of oddities here that will make you scratch your head (and maybe even chuckle) about this beautiful pearl of Africa.
So, there you have it. Ten strange but true things that only happen in Uganda- and this list is by no means exhaustive!
If you know of anything else that should be included on this list, please let us know in the comments below. In the meantime, happy Ugandening!
READ ABOUT 10 Ugandans who would violently fight each other if they met!.
Bank reserve requirements and their effects to the global economy
https://itradefx.co/bank-reserve-requirements/
Update your Forex charts with the Itradefx team https://itradefx.co/3rd-week-of-september-forex-analysis/
Load More...